Find, help and assist. Caring services from Senior Advantages first help you decide which Senior Living option is right for you.
A place for mom! A place for you! What to look for in a senior home.
The senior living options in South Florida offer overwhelming choice, but that can be confusing when you're not familiar with what services and amenities each offers, eligibility requirements, cost structures, payment options, and the similarities and differences among them. With all the choices, how do you find the right senior living for your loved one or yourself? Should you be looking at independent living or assisted living environments?
Which Senior Living option?
An overview of common senior living options that you might want to consider: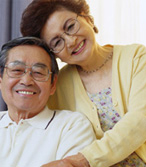 Independent living communities. For active, healthy adults meeting a minimum age requirement who want relief from the responsibilities of home ownership without giving up privacy.
Assisted living facilities. Designed for seniors who need help with activities of daily living—i.e., non-medical personal (or custodial) care. Basic medical monitoring may be offered, but higher levels of skilled nursing or medical care support typically are not provided.
Home Care. Assistance with personal care (bathing, grooming, and dressing for example) and/or skilled nursing care can be provided in the privacy and familiar environment of a senior's current residence.
Memory care facilities (Alzheimer's/dementia care). Specially designed and staffed living spaces and supportive environments for adults living with the cognitive challenges of memory loss.
Skilled nursing facilities/nursing homes. An option for adults needing 24-hour medical care and supervision due to chronic illness, surgery, or an accident or injury.
Continuing care communities. Provide a continuum of care from independent and assisted living to memory care and skilled nursing. Seniors can easily transition from one residential care setting to another.
Find the best Senior Living Options by comparing and contrasting.
The chart below highlights some of the similarities and differences between various senior living options:
Independent
Living
Assisted
Living
Home Care
Memory Care
Skilled Nursing Nursing Home
Levels of Care
Aid with personal care
Medication monitoring
Skilled nursing care
Some Agencies
Memory care for Alzheimer's and
other progressive dementias
Some Agencies
Some Agencies
Some Agencies
Services & Amenities
Housekeeping
Light Housekeeping
Laundry
Meals
Transportation for off-
site appointments, outings
Social activities
Payment Options
Medicare
Short Term
Medicaid
Expenses other than
room and board
Veterans assistance
Long-term care insurance
Private pay
Important Considerations in Selecting the Best Assisted Living Facility
If you don't know the ins and outs of senior living, it can be hard to know what to look for. That's one of the advantages of partnering with a Senior Advantages Advisor. We're your personal resource and advocate. Here are some of the considerations that don't necessarily come to mind for those unfamiliar with assisted living and other senior accommodations.
"For all my baby boomer friends struggling with how to find the right facility or care for your aging parents, I have the perfect person to help you! Brett Feldman is the nicest, most caring, knowledgable and professional person to call. He works for Senior Advantages and was immeasurably helpful to us."
— Dani E.
What services are included?
What services are extra?
Are visitors allowed to stay overnight?
What rules do residents have to follow?
If the resident has a roommate, what can be
done if problems arise?
Is medical care available on site?
How are prescriptions filled?
If a resident becomes more disabled, can the facility
accommodate those needs?
What is the "bed hold" policy for unavoidable absences
(e.g., hospitalization)?
How often can the assisted living provider change the fees?
What happens if the resident can no longer pay the fees?
Find the Best-Matched Independent Living or Assisted Living Now.
Let Senior Advantages simplify your search for top-rated assisted living or independent living in South Florida.
Click here or for immediate service call 1-800-748-2129