Senior Assisted Living Services.Since 1992, Senior Advantages' placement services remain unmatched throughout South Florida.
Assisted Care doesn't mean restricted living.
Selecting an assisted living facility or other senior housing is often an overwhelming experience for individuals and families. Partnering with Senior Advantages, South Florida's top-rated assisted living placement agency, can greatly simplify the process for you. By offering one-on-one personalized services every step of the way, we help you achieve faster results, and give you the confidence that you've conducted a thorough, well-informed evaluation before choosing the right assisted living facility or other South Florida senior living solution for a loved one or yourself. At Senior Advantages, we work to make sure assisted care doesn't restrict your options for how you want to live.
Top-Rated Assisted Living – the advantage of working with Senior Advantages: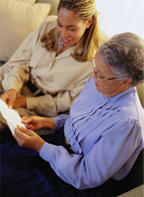 Personal Attention: We work directly with you in identifying and choosing the right assisted living facility; we're not intermediaries. We don't simply pass along your contact information to assisted living sales departments.
Face-to-Face Consultations and Personalized, Escorted Assisted Living Tours: We learn about our clients on a personal level so we can individualize and tailor our recommendations for assisted living in South Florida. You can count on our dedicated in-person support through every step of the process.
Assisted Living Expertise & Experience, Education & Guidance: Senior Advantages Advisors have in-depth knowledge of every assisted living facility we recommend and years of experience in evaluating and choosing the best assisted living facility or other senior housing solution for each unique situation.
Assisted Living Community Prescreening and Monitoring: Assisted living facilities and any other senior housing that we recommend are fully compliant with all licensure requirements, are highly rated by accrediting organizations, and score in the top percentiles for resident satisfaction and other quality benchmarks.
Our 5-Star Senior Living Care Guarantee: Our dedicated team will help you find the best assisted living facility, in the right location, with the right services, at the right price without the complications involved in doing the time-consuming research and legwork yourself.
All Assisted Living and Other Placement Services Are Provided 100% Free to You.
Find the Best Assisted Living Facility in South Florida. Call 1(800)748-2129.
Let us help you make the responsibility of finding optimally matched assisted living a whole lot easier and faster...
Click here or for immediate service call 1-800-748-2129.